When Mister decided that I should decorate the tree sans clothing, I happily agreed, thinking that it would be great fun and I'd end up with a great fucking. I really should have known better. Mister is FAR, FAR more creative than that! First, he brought in the tree and snipped off a few of the bottom branches – which I didn't think anything of at the time! Then, he set it in the stand, got the lights on it, and then handed me a small box. I squealed, opened it and saw the first gift of many that night. Bells. For my Nipples. Grinning, he ordered me to stand in front of the tree with my hands on my head. I wasn't to move – not a good sign. Using the branches he'd clipped off the bottom of th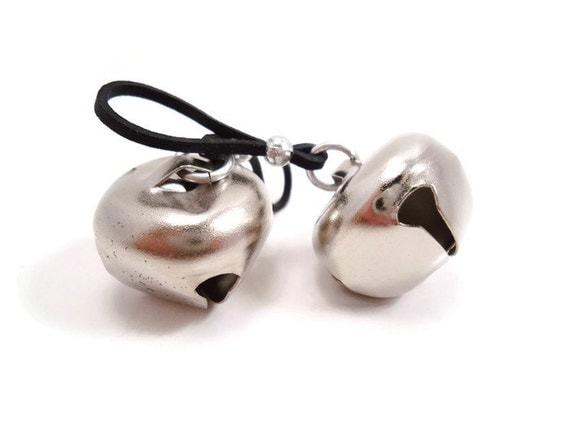 e tree, he lightly thrashed my breasts until they were bright pink and my nipples hard as bullets. Goodness but those small needles sting!! Only when I begged and begged and begged (although that probably had nothing to do with his decision!) did he relent and decide my nipples were big enough. He put the bells on them. I thanked him profusely, and started to move my hands, but he stopped me with a look. He had not given permission yet. Instead, he took a step back and unzipped his jeans. I dropped ungracefully to the floor and showed my gratitude with open mouth. Only when his cock was balls deep inside of my mouth did he say, "Touch Me." I dropped my hands to his balls. With one, I gently massaged. With the other hand, I wrapped around his cock and followed my mouth, sucking and working his length. Because he likes it, I kept my turned upward. I felt him grow and knew he was about to come. I sucked harder, deeper, desperate for him. One drop of sweet cream fell on my tongue before he pulled out and sprayed his cum over my pink, lightly scratched tits. I pushed my breasts together, catching all of his cream. When he finished, he told me to rub it in, which I happily did. The hot, perfect ointment irritated my skin, but my pussy was dripping with wetness. The pride in his eyes more than compensating for any discomfort.
He helped me to my feet and told me to finish the job of the tree. I worked diligently, conscious of the tinkling sound of the bells and my wet thighs. Mister didn't help a bit, but never took his eyes off of me. Finally, I finished. He stood, kissed me, and praised the tree. Then, he took up some left over garland and said, "I've got the perfect use for this." He told me give him my wrists – which, of course, I did. He tied the garland around them and led me to the couch where I leaned over the arm, the end of my garland leash tied to the far end. Mister picked up one of the branches he'd used to lash my breasts with and the clippers. I w
as beginning to understand and started to babble and cry. I had an idea of what was to come, and I knew I wouldn't like it (but my body certainly would!) Another gush of wetness betrayed my excitement. Mister laughed, clipped of a small branch, and, spreading my wet nether lips, inserted it deeply inside of me. It tickled and hurt and filled me and frustrated me. He then lubed up my ass. Tears were flowing down my face, something which pleased him greatly. I'm not sure if I was crying from fear or anticipation or passion. Probably all three. Mister stood behind me and pressed his hard cock against my anus. I pushed back, desperate for him. I began to beg again, this time for him to fuck me. When he was fully seated inside of me, I sighed with relief and began to thank him. He laughed again, and told me that before he was finished, I'd be begging for mercy. He'd grabbed the large branch again and, using it like a jockey, thrashed my ass while he rode he hard. The scent of crushed pine needles filled the air. My cheeks were burning from the thrashing, my pussy aching from the stem it was clenching and my ass felt like it would be torn in two from the force of his thrusts and the hardness of his cock. I exploded. Shining lights filled my vision as I came, and came, and came. He dropped the branch and took hold of the twig inside of me. He turned it, scrapping it along my tender insides, and I screamed, doing as he had predicted and begged for mercy. He pulled it out, sunk his cock deeply inside of me and pumped me full of his cum.
Later, lying in front of the tree, still naked except for my bells, and snuggled in his arms, I thought, What a Wonderful Time of the Year!