My collar looks more like a pretty necklace, which is why I wear it 24/7. I cannot remove it even if I wanted to. Its latch is a tiny combination lock which King has the combination to. Now the combinati
on is also written in the closet of our playroom, so I could take it off, I suppose. We both know I won't. I enjoy my protocols too much for that.
The circle is just large enough for King to put his finger in and pull me up short. He also has a fine golden leash he can attach to it.
I hate when he does this, but love it also. The combination of my humiliation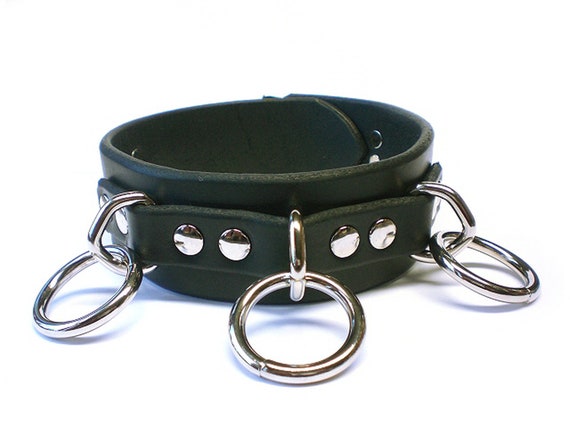 and his power intoxicates me.
My second collar, though, is far more humiliating and nothing about it is discrete. King will sometimes send me a text with an order. Collar. Now. When I receive this, no matter what I am doing, I am to go to the playroom, undress, put on the Strict Collar, buckle it, lock it into place, put the key on the dresser, and kneel on a pillow. All of this I did.
Forever later, King came into the room. He stood before me and I unzipped his trousers, releasing his cock. I began to worship him, licking, kissing, sucking. I felt him reach behind him then the click of a leash on the center ring.
"Wrists."
I hold up my wrists, careful to keep his cock fully in my mouth. He buckles cuffs on each wrist and clips them onto the other two rings.  Only then does he surrender himself to my mouth. I am no longer worshipping him. He is fucking my mouth. He grabs my hair tightly at the scalp, pulls by head back, away from his masterpiece, and sprays his hot seed across my breasts.
I whimper, devastated at the waste of his deliciousness. He hears this and laughs.
This is the beginning. I am always HIS, but when I am in the strict collar, I am his to humiliate and use without any bounds. My safe word would be honored, of course, but I have never used it.
We both need this sometimes. The total and complete humiliation of one for the pleasure of another.
It is, after all, simply a matter of protocol.