Jenny fumed. Kyle had bet her that he could plan an evening of pure enjoyment and luxury – a fabulous date – better than she. Of course he could – he made three times the amount of money he could! So, she'd purposed that they each could spend only a certain amount. Kyle agreed and let her set the amount – $100.00. Grinning, he said that she could certainly spend that. In fact, he GAVE her the money so she wouldn't actually be spending anything out of her own pocket! Then, he said that he'd spend only half – $50.00 or less. Jenny had set up certainly rules. 1.  There had to be a meal – a real one, not just a hot dog or something.  2.  There had to be entertainment – music, dancing, a show, something like that. 3.  There had to be an after party back at one of their apartments. Any toys or implements had to be new – nothing they already had. Then, they would both decide which date had been more memorable and fun. The loser would pay a debt to the winner – the specific debt decidable by the winner.
Jenny had taken Kyle to a fabulous new pizza place for dinner – which they had both enjoyed. Then, they went to see a movie they'd both been eager to view. Finally, the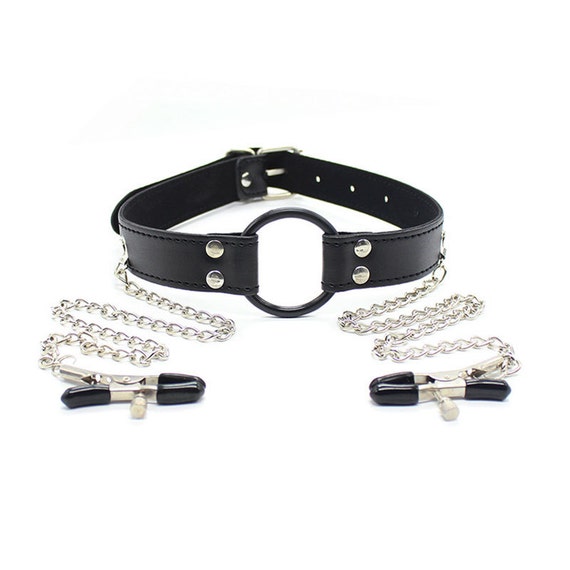 y ended up back at Jenny's place. She took Kyle into the bedroom, turned on soft music and slowly stripped for him.  Then, she slowly stripped him, licking and kissing his delicious body as she did so. She opened the drawer next to her bed and handed him a box. Inside was the one toy which she could afford after dinner and movie – one toy which she had never really wanted to try. Kyle, however, had often mentioned how sexy and submissive it would be for her to wear such a device. tonight, she was willing to try. An open o-ring gag with two chains attached, each ending with nipple clips. She loved the nipple clips, but wasn't so sure about the O ring. For starters, drooling, in her mind, was not in the least bit attractive. Kyle grinned when he saw it and lost no time in buckling it around her head, fitting it comfortably – or as comfortably as possible – around her head. Then, he clipped her nipples. She squealed, but the pain shot bolts of pleasure throughout her body. "Knees." She slide to her knees and looked up, her mouth held open by the ring. Kyle lost no time filling the opening. Not having to worry about her teeth, he plunged deeply, blood surging when she gagged slightly, tears springing to her eyes. "Hands." She put her hands on behind her head. Kyle held them in place, grasping her hair firmly as well. She was, basically, at his mercy. She trembled, pain melding into joy as he began to fuck her mouth. "Eyes." She tilted her head and looked up at him, silently pleading for both mercy and use. Her body reacting strongly to his commands, his voice, his taste, and his power, she felt a warmth begin to grow in her womb.
Her eyes widened realizing that she was on the verge of an orgasm. Drool ran down her chin, humiliating her and pleasing him. He plunged deeply, gagging her, then held himself rigid. "Swallow." Blinking her acceptance and Gratitude, Jenny worked her throat, shocked that the gag actually made swallowing much more difficult. She struggled, desperate to follow his command as his sweet cream spurted down her throat. Unfortunately, quite a bit also dribbled out the corners of her mouth. Once he finished, Kyle helped Jenny to stand, smiling evilly at the tell-tale sign of her failure to follow one of their hard and fast rules. He sat on the bed, flipped her over his lap, and began the agreed up punishment for her failure to swallow all of him – a hand spanking. Followed by corner time. Jenny squealed with each string, her breasts swinging, the clips pulling, and drool mixed with cum running out of her mouth. Her face was not covered with tears of both pain and humiliation. Finally, he stopped, helped her to stand, told her he was so very proud of her. He couldn't have been more pleased by her behavior this evening – even the mistake of dribbling a bit of his cum down her chin. He helped her to stand in the corner, continuing to praise her. Buy now, her ass was on fire, her jaws ached, her nipples would be tender for days, and she'd yet to have any relief from the gnawing need to have something in her weeping pussy. Kyle, a kind and loving dominant, took pity on her and kept her corner time short. He turned her around and unclipped her nipples. Again she squealed with the pain, and a rush of happy juice trickled down her thighs. He reached around her head and unbuckled the gag, then, carried her back to the bed. He made love to her slowly, gently, completely. She lost count of the number of orgasms he gave her, but screamed his name as he filled her again with his own pleasure. As she lay in his arms, groggy, tender, and satiated, she asked him when they were going to go on his date. "Tomorrow, love. Be prepared."